More than SCADA

Data Acquisition, Process Monitoring
In modern bioprocessing, collecting data from diverse sources is essential to gain a comprehensive understanding and valuable insights into the process. With Lucullus®, this is realized through seamless connectivity and vendoragnostic integration of various equipment.
The data is centrally stored in a structured and harmonized manner serving as a hub for consolidating the aggregated data. These foundations enable the subsequent application of process knowledge in advanced control strategies for automation.
Benefits
Gain Overview
Be on top of your running processes with centralized real-time monitoring.
Oversee Data
Supervise your processes with easy access to all relevant information on site and remote.
Compare Processes
Evaluate performance with comparison of running and historical processes of different scales.
Get Notified
Receive SMS and / or e-mail notifications on alarms and process events.
Data Collection
The acquisition of information is at the core of Lucullus®. All relevant data is centralized and stored for subsequent use in process control and evaluation.


Monitoring and Visualization
Lucullus® provides a clear visualization of current and historical process data and all relevant information. Whether presented as a diagram, table, or P&ID, the adaptable interface ensures a comprehensive overview of your processes.


Information Management
In biomanufacturing, multiple stakeholders play critical roles, including lab technicians, engineers, data scientists, and managers. Each user has distinct responsibilities and requires access to specifi c tools and information.
Lucullus® was purposefully developed to support to the unique needs of each user, offering manageable access and a harmonized interface. It ensures that all users have the necessary tools and information at their disposal, facilitating seamless collaboration and optimizing workfl ow efficiency.
Features
User Management
Define users, groups and permissions via Lucullus® or existing LDAP

Remote Access
Secure data access from everywhere in the network

Audit Trail
Recording of all the user interactions during the process and projects

Information Transfer
Seamless and harmonized data exchange between laboratories, departments and sites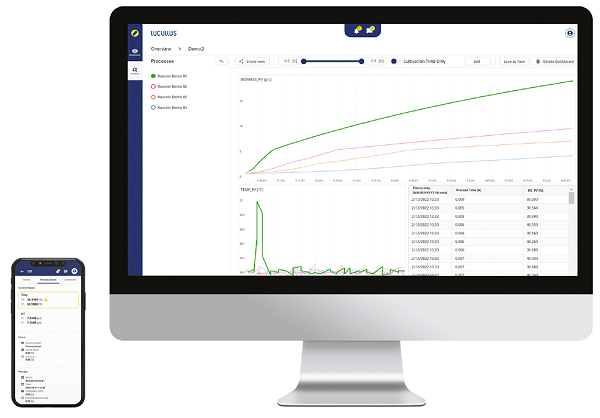 Web Interface, Available in Lucullus Version 3.11
Evaluation & Reporting
Lucullus® collects data from various sources across the entire bioprocess environment, storing them securely in one central location.
All process information is accessible for automated visualization, evaluation and batch reporting. Lucullus® provides efficient database search options, analysis tools, data export features, and automated paperless documentation to support your needs.
Features
Efficient filtering options to easy access all the historical process data

Customized visualization of data in graphs or tables

Advanced realtime processes evaluation with integrated tools (e.g., smoothing, regression, integration)

Programmable sequential evaluation for standardized process analysis and reporting

Data export options for selected data sets and graphs in various formats

Automatically generated reports with customized templates

Data integration with 3rd parts software such as databases and mathematical, statistical, and machine-learning tools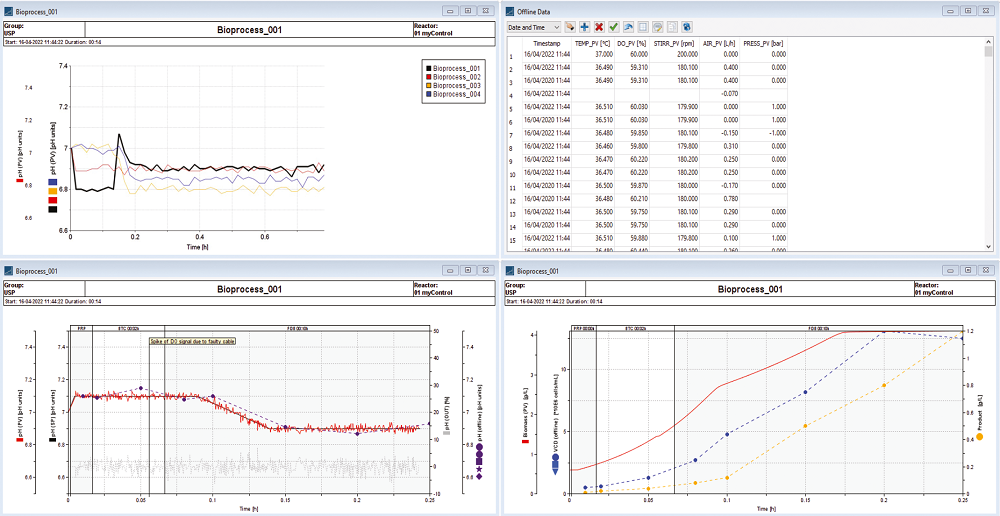 Process Control & Automation
Process control plays a pivotal role in bioprocess development and production. With Lucullus®, you can implement both basic and advanced control mechanisms to ensure the precise execution of process commands across all connected reactor systems. Lucullus® seamlessly collects data from standalone devices by leveraging its powerful data integration capabilities, providing comprehensive real-time information for control purposes.
The process step-chains dictate the timely sequence of events, whether control actions are automated or manually executed by operators. With incorporated control sequences and event-based decisions, Lucullus® enables implementation and execution of process designs without any limitations.

Benefits
Facilitate the simultaneous launch of several experiments with variable recipes
Increase efficiency and robustness through pre-designed process strategies and supervision
Ensure product quality by controlling critical process parameters and critical quality attributes
Improve batch-to-batch consistency decrease risk of human errors and failing processes
Save operator time by unattended process execution and full automation
Easy tech transfer from R&D to production
Basic Control
The basic process control functionalities of Lucullus® include effortless process loading, initiation, and termination, alongside the ability to modify setpoints and parameters. Additionally, it provides a comprehensive visualization of process states, alarms, and events, offering a holistic overview.
Centralized, uniform interface for overarching process control:
Start and stop processes on selected bioreactors
Adapt process setpoints and parameters during the process
Apply predefi ned control strategies to single processes or process groups
Confi gure customized notifi cations for alarms, process conditions, or events
Advanced Control
Advanced process control enables the development of automated process control strategies. This encompasses a wide array of actions based on events and timing, such as initiating feeds, parameter shifts, phase changes, and a variety of other possibilities. The system offers prepared modules designed for calculations, user interactions, feed profiles, and other functions, simplifying the programming of processes with an intuitive approach.
Process control strategies for supervisory control and process automation:
Step-chain programming with alternative branching and parallel steps
Defined event and time-based user interactions
Integrated alarms and operator notifications (e.g., e-mail and SMS alarms)
Ready-to-use software programming modules (e.g., calculator, interactive user console, profiler, exponential and linear ramp function, PID controller, etc.)
Advanced script-based process programming
Built-in utilities / tools to go beyond predefined modules and code advanced calculations for process control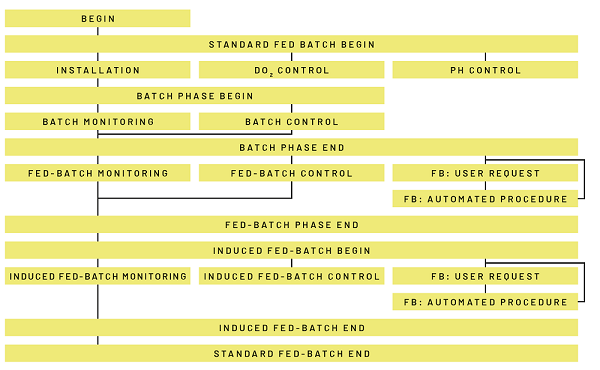 Process Planning
The Lucullus® Planning tool empowers users to design future bioprocesses using a guided workflow. Operators can pre-define and schedule reactors and associated equipment, specify attributes, and select control stepchains and alarms. This structured planning approach for future processes or process groups ensures smooth process starts and seamless knowledge transfer, facilitating efficient operations and effective process implementation.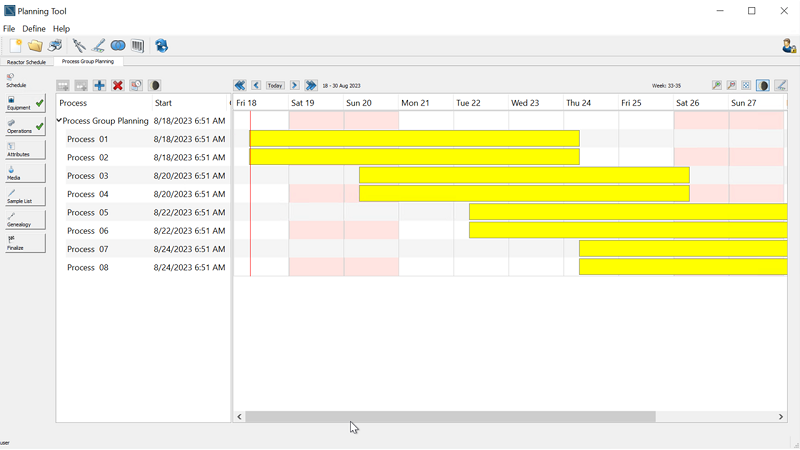 1. Define process groups
Create single processes and process groups
Assign unique process names
Import DoE data (if desired)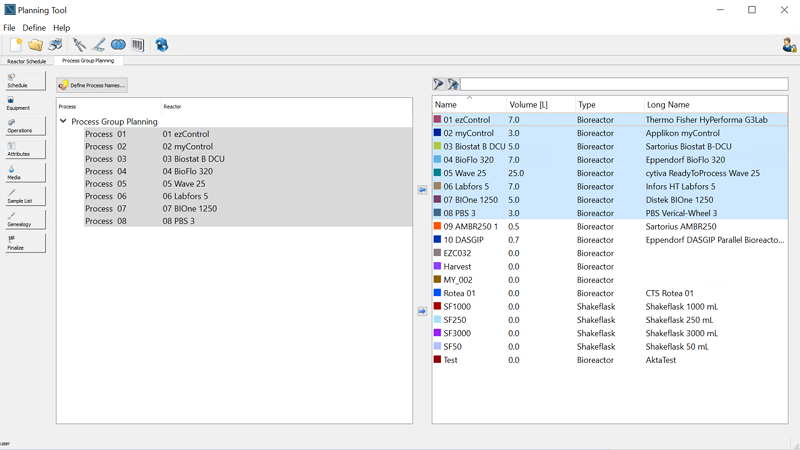 2. Select devices and define attributes
Select the bioreactors and assign the processes
Define process attributes and set-points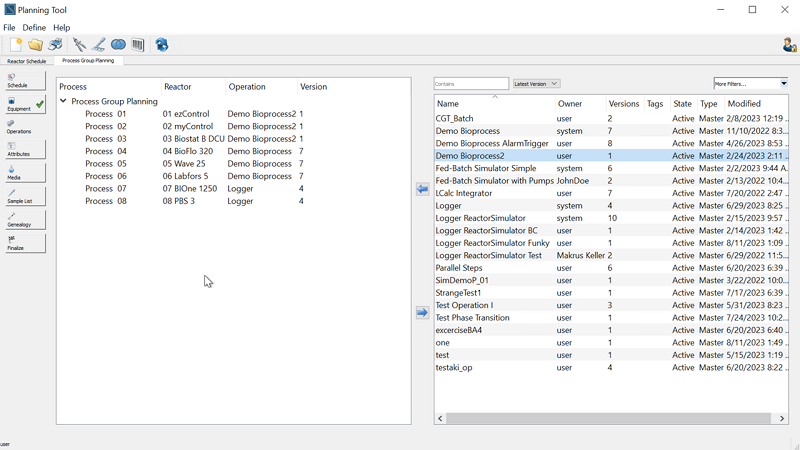 3. Assign operations and media
Assign process control step-chains (operations)
Choose the medium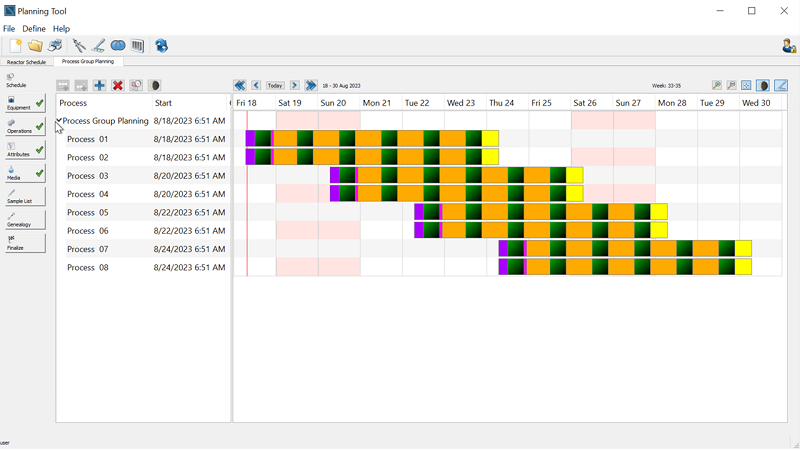 4 Schedule processes and sampling events
Define phases and durations
Schedule processes
Optional: add sampling plan
Sample Management
Lucullus® revolutionizes sample management and the associated data assignment to respective processes. While reactor sampling and sample processing are still performed manually, the samples are now stored in tubes labeled with barcodes. Lucullus® automatically creates unique barcodes for each sample, which are subsequently scanned at the off-line analyzer.
By generating a unique barcode ID, Lucullus® automatically imports the sample results upon completion of the analysis and assigns them to the corresponding process and process time, streamlining data integration and ensuring accurate tracking of sample information.
Benefits
Manage samples efficiently by applying sampling strategies, defining methods and preparing tubes with barcode labels
Be reminded during process execution to take a sample at predefined sampling intervals
Record exact timing of sampling to align on-line and off-line data
Retrieve data automatically from at-line analyzers
Automate sampling and sample processing even further with the Numera® PAT system
Use sample data for advanced process control

Automated Sampling With Numera® System
The combination of the automated sampling system, Numera®, and the Process Information Management System, Lucullus®, enables the orchestration of the whole workflow covering sampling, measurement, process monitoring and control. Read more here
Material Management & Media preparation
Lucullus® offers digital assistance for media lot preparation and seamless integration of raw material information. Lucullus® facilitates a streamlined workflow from media planning to media optimization through guided media preparation using electronic protocols. Lucullus® also enables efficient warehousing and ensuring traceability of components throughout the process, enhancing overall efficiency and quality control.

Benefits
Check and monitor the availability and the usage of compounds from storage
Reduce human errors for material handling due to guided workflows and barcode technology
Manage your media recipes in a structured library
Automatically record data in your media kitchen with integrated devices (e.g., pH meter, scales, etc.)
Link media lots and compounds to experiments
Use the information gained during experiments for media optimization, comparison, calculation and reporting
Identify and monitor critical material attributes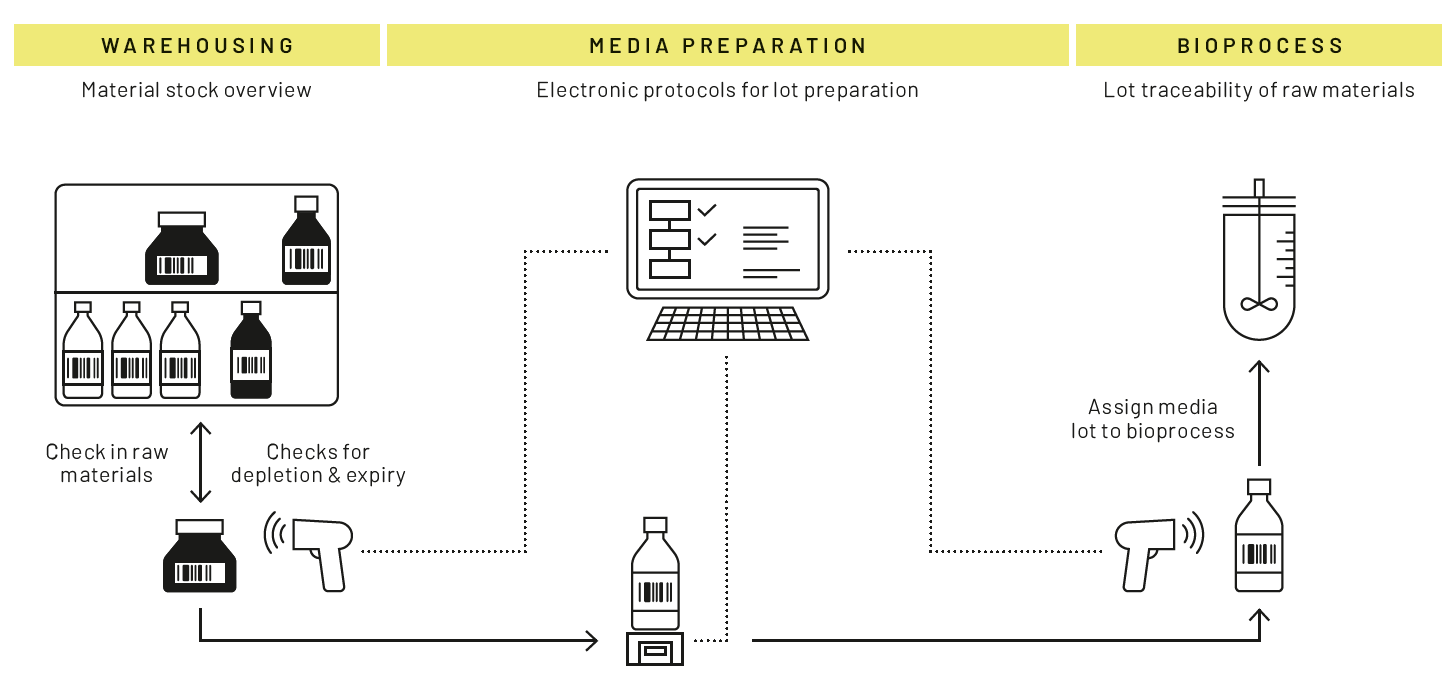 21 CFR Part 11 Compliancy
Lucullus® is designed to fulfill the requirements for electronic records and electronic signatures for GMP applications. It is compliant with the FDA 21CFR Part 11 guideline.
Access Security

The Access Security includes features such as the use of a unique combination of user ID and password, customizable password security settings, comprehensive logging of access security actions in an audit trail, and extensive user management capabilities for roles and groups.

Electronic Signature

Lucullus® enforces the authorization of defined interactions by a user with the appropriate authorization. Confirmation of changes is requested with pop-up windows. The following information is stored in the
audit trail: reason, timestamp, and printed username.

Audit Trail

Lucullus® provides a continuous audit trail that is protected against deactivation and tampering. It tracks the user interactions and all events during a process. A second audit trail on the database level logs all changes in system configuration.

Archiving and Retrieval

The Lucullus® interface is designed to prevent process deletion and raw data modification to ensure data integrity. A robust data integrity checking mechanism prevents the deletion of resources associated with active processes and serves as an additional layer of protection to ensure data consistency and reliability.
From Data to Wisdom with

Lucullus® and DataHow
The integration of Securecell's Lucullus® process information management system with DataHowLab, an advanced data analysis tool, will enable users to merge streamlined data collection and organization with sophisticated machine learning and modeling capabilities. This collaborative interaction between the two tools, leveraging the expertise of both companies, represents a significant stride towards achieving comprehensive digitization. It signifies a shift from mere monitoring and control to knowledge-driven digital solutions, aligning with the objective of Bioprocessing 4.0.