Numera® - Advanced Bioprocess Sampling Solution
Numera® is a fully automated sampling system that never sleeps, integrating and improving every process analytical technology with reliable real-time results 24/7. Combined with Lucullus® software, Numera® is a seamless all in one sampling solution.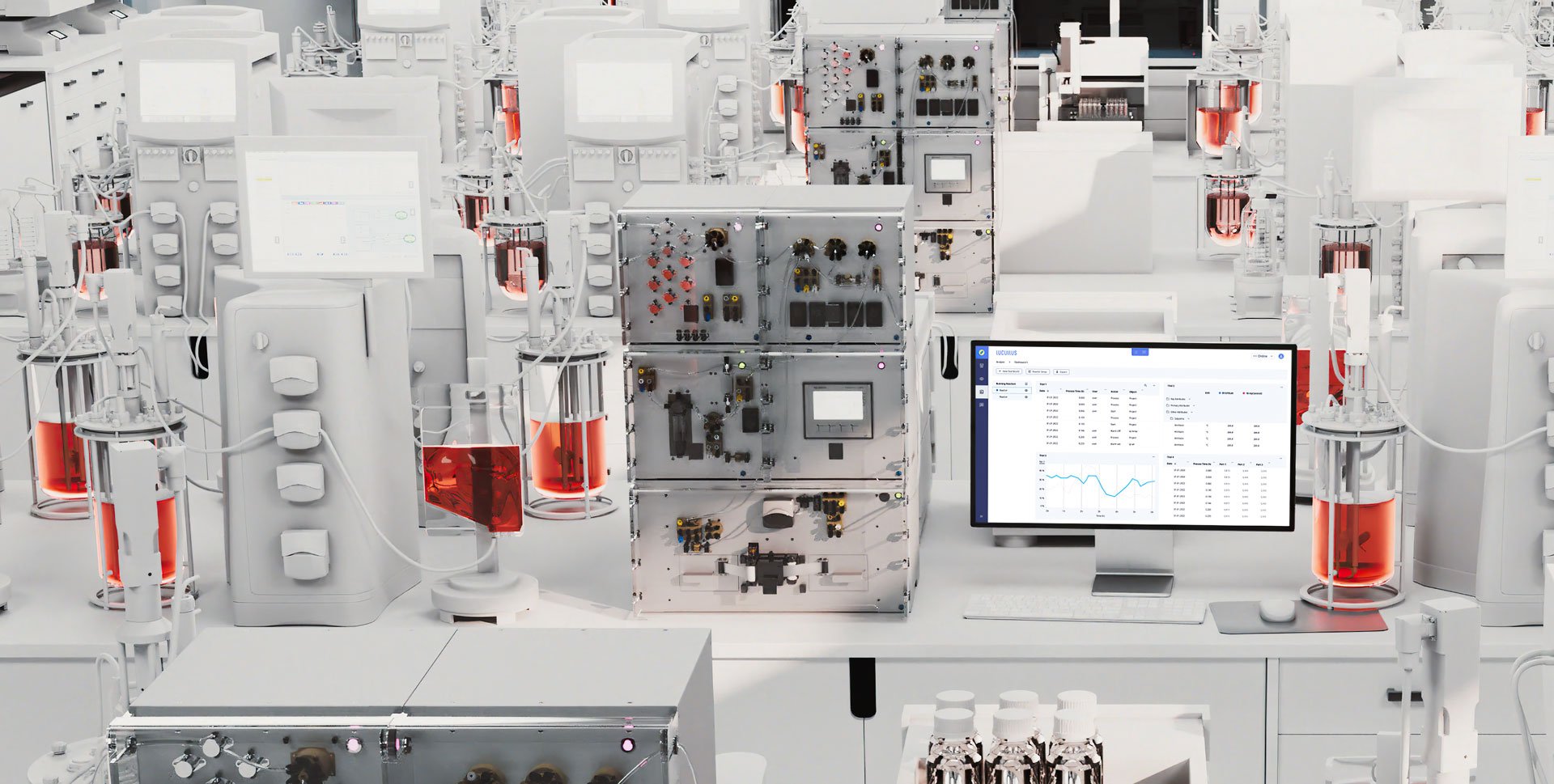 "Whether on- or off-line, Numera delivers accurate HPLC data fast and with little effort."
- DR. Ueli von Ah
Biotechnology Research Group Leader, Agroscope
"High-density, time-resolved data reduce the number of experiments!"
- PROF. Christoph Herwig
Professor for Biotchemical Engineering, TU Wien
"Numera improved the automation of our Continuous Countercurrent Tangential Chromatography (CCTC) System."
- Oleg Shinkazh
CEO and Founder, ChromaTan Corp.
"Securecell's support goes beyond the simple supplier-customer relationship. With Securecell we chose a partner that is actively supporting us in our mission of automating and digitalizing our laboratory environment."
- Nick Wierckx
Professor at Institute of Bio- and Geosciences Forschungszentrum Jülich
NUMERA®
Key Features
Sampling from up to 16 vessels

2 to 3 ml sampling volume

Sampling time ~8 minutes

Sample storage and cooling

Sample transfer to up to 4 analyzers

Unique filtration technology for cell removal
NUMERA®
Key Benefits
Automated sampling 24/7

High frequency and low volume sampling

Individual sample preparation including consistent cell removal.

On-line measurements with common analyzers

Automated data import from analyzers and advanced feedback control loops with Lucullus®
Sterile Interface

The Multiplexer offers 4 connections for single use sample lines, which can be connected to bioreactors or vessels. Sterility is ensured through pinch valves and ethanol. A Numera system can include up to 4 Multiplexer modules.

Flexible Sample Processing

The Routing Module interconnects the various modules and offers transfer of samples to the Autosampler and up to 4 analyzers.

Precise Dilution

The cell containing samples can be diluted or mixed with a reagent using a highly precise syringe drive. Dilution rate can be varied between 1:2 to 1:20.

Unique Membrane Filtration

The unique loss free membrane filtration with tangential flow enables gentle and complete cell removal with low sample volumes. Various pore sizes from 0.2 to 1.2 µm are available.

Sample Storage

The Autosampler is equipped with Peltier cooling racks and can be used with various sample vials from 1.5 to 10ml. The device is available in two sizes with space for up to 384 vials.

HPLC Integration

An inject valve for HPLC (up to 20'000 psi) can be included in the Autosampler setup. Direct inject provides loss free and fast analytics with HPLC system of various vendors.