Seraccess® AGM / AXM: Automated Glucose Monitoring for Hospital Care
Seraccess® AGM / AXM represents the next generation of clinical measurements offering superior analysis of glucose and beyond by combining automated blood sampling, plasma extraction and photometric accuracy to continuously monitor critical blood parameters from the smallest sample-size possible.
Why Seraccess® AGM / AXM?
Current glucose measurement methods are mainly based on manually drawn blood samples. There are often large time intervals between measurements, and the total time needed by the nursing personnel generates significant cost.
Seraccess® AGM and AXM performs automated and regular blood sampling, using an already inserted catheter. Only a tiny amount of blood is required for each measurement and the system provides highly accurate and precise glucose values at short time intervals. Seraccess® AGM enables physicians to follow a patient's course of blood glucose in a much closer way and empowers confident treatment decisions and AXM offers the ability to monitor additional blood parameters.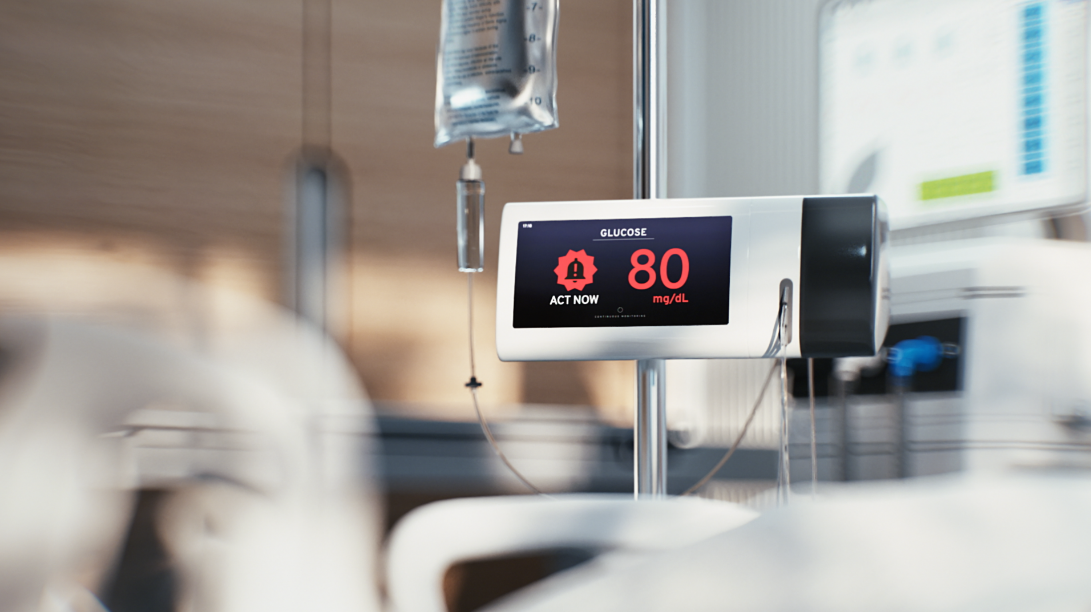 Seraccess® AGM: Glucose Monitoring
Seraccess® AGM will provide nurses, doctors and ICU personnel a front-line tool to track patient's physiological conditions by consistently producing 100 fully automated and highly accurate glucose measurements from only 2-3 ml of blood per day. Seraccess® AGM can revolutionizes the way hospitals treat disglycemia, especially in the intensive care unit (ICU).
Avoiding dysglycemia is a key goal in the treatment of patients in ICU.1-5 Unfortunately, both hyper- and hypoglycemia in hospitals are common and related to increased morbidity, mortality, and respectively increased health care costs.6 Automated glucose measurement reduces resource utilization and nursing costs, as well as length of stay in the ICU by more than a day.5,7,8 Seraccess® AGM is a system that can be integrated in existing installations to provide optimum glucose monitoring.
Seraccess® AXM - Beyond Glucose
Seraccess® AXM extends beyond glucose monitoring to deliver additional diagnostics such as lactate, sodium and potassium analysis within one decentralized system. AXM transports the functionality of an off-line central lab to an online bedside device giving hospital workers and patients an advanced solution for the accurate monitering of both disglycemic and critically ill patients.
SERACCESS AXM®
Additional Features
The automated, regular, accurate and precise glucose measurement provided by Seraccess® will empower confident treatment decisions and lead to improved clinical outcomes. Furthermore, hospitals will benefit from significant cost reduction by eliminating manual glucose measurements.
Blood Sampling
How much blood is needed per day to measure blood glucose every 15 minutes?
The Seraccess® technology only needs 20µl to 30µl of blood to perform a measurement. At a sample frequency of 15 minutes, Seraccess® administers 96 measurements every 24 hours which amounts to only 2ml to 3ml of blood per day.
Plasma Extraction
How to communicate directly with the blood?
One of the key elements of the Seraccess® technology is the proprietary silicon membrane which contains millions of pores through which pure blood plasma is extracted for an accurate, precise, and nearly delay-free blood glucose measurement.
Blood Glucose Measurement
More accurate, more precise, and nearly delay-free
The photometric method used by the Seraccess® technology provides much more accurate and precise blood glucose measurements than conventional electrochemical methods, which are subject to interfering factors such as signal drift, time delay or slow response time as well as substances such as hydroxyurea, acetaminophen, or paracetamol.
Blood Glucose Monitoring
Reliable blood glucose monitoring
An intuitive easy-to-use screen interface supports patient management. As a default, blood glucose measuring frequency is set at 15 minutes and can be adjust ed as needed. Due to this increased measuring frequency, Seraccess® AGM can lead the way towards reduced glycemic variability and improved clinical outcomes.
Over 200,000 beds in intensive care units in the US and Europe alone translate to a yearly potential of at least 35 million treatment days generated by about 9 million patients. An ICU bed equipped with the Seraccess® AGM durable unit will host around 100 patients per year, who will consume 200 disposable units. Overall, the value of the durable market is estimated at 1.4 bn CHF and the disposable market at 2.7 bn CHF.
Visit our Investor Relations page to contact us and learn more.
Seraccess® - Disruptive Technology for Monitoring Critical Blood Parameters

In its MedTech division, Securecell is proudly developing Seraccess®, an innovative technology that fully automates high-frequency collection, processing, and analysis of blood using next …

Seraccess® ONE / NEXTRA APDS (Artificial Pancreas Device System)

A breakthrough wearable Artificial Pancreas Device System providing the highest quality automated care for patients suffering from severe glycemic dysregulation.
Disclaimer
Seraccess® is a mid-stage venture project of Securecell that offers investment opportunities to private and institutional investors.
All information and opinions contained herein have been prepared by management and its advisors and represent their assessment as of January 2022. No representation or warranty, expressed or implied, is given as to the accuracy or completeness of the contents, opinions, or projections expressed herein and no responsibility or liability is accepted. All information videos and contents do not constitute an offer to purchase securities. The website content does not constitute an invitation to buy shares under US or international law.
References:
1 I.B. Hirsch, L.M. Gaudiani: A new look at brittle diabetes. Journal of Diabetes and Its Complications 35 (2021) 107646; https://doi.org/10.1016/j.jdiacomp.2020.107646
2 Cryer, P.E., S.N. Davis, and H. Shamoon, Hypoglycemia in diabetes. Diabetes Care, 2003. 26(6): p. 1902-12.
3 Lind, M., et al., Glycemic control and excess mortality in type 1 diabetes. N Engl J Med, 2014. 371(21): p. 1972-82.
4 Cartwright A. et al. The outcome of brittle type 1 diabetes - a 20 year study. Q J Med 2011; 104:575-579
5 Flanagan D. What happens to people with "brittle" diabetes? Diabetes Digest 2011 Vol 10;4:196 https://www.pcdsociety.org/download/resource/2756; accessed Dec 16, 2021
6 https://www.webmd.com/diabetes/brittle-diabetes-all-about; accessed Dec 15, 2021
7 CDC National Diabetes Statistics Report 2020; https://www.cdc.gov/diabetes/pdfs/data/statistics/national-diabetes-statistics-report.pdf; accessed Dec 15, 2021
8 https://www.americanactionforum.org/research/understanding-the-insulin-market/; accessed Dec 15, 2021
9 https://www.bdtype1.com/difference-stable-type-1-vs-brittle, accessed Dec 20, 2021
10 Lyerla et al. Recurrent DKA results in high societal costs - a retrospective study identifying social predictors of recurrence for potential future intervention. Clin Diabetes Endocrinol (2021) 7:13; https://clindiabetesendo.biomedcentral.com/track/pdf/10.1186/s40842-021-00127-6.pdf
Related Articles on Seraccess®