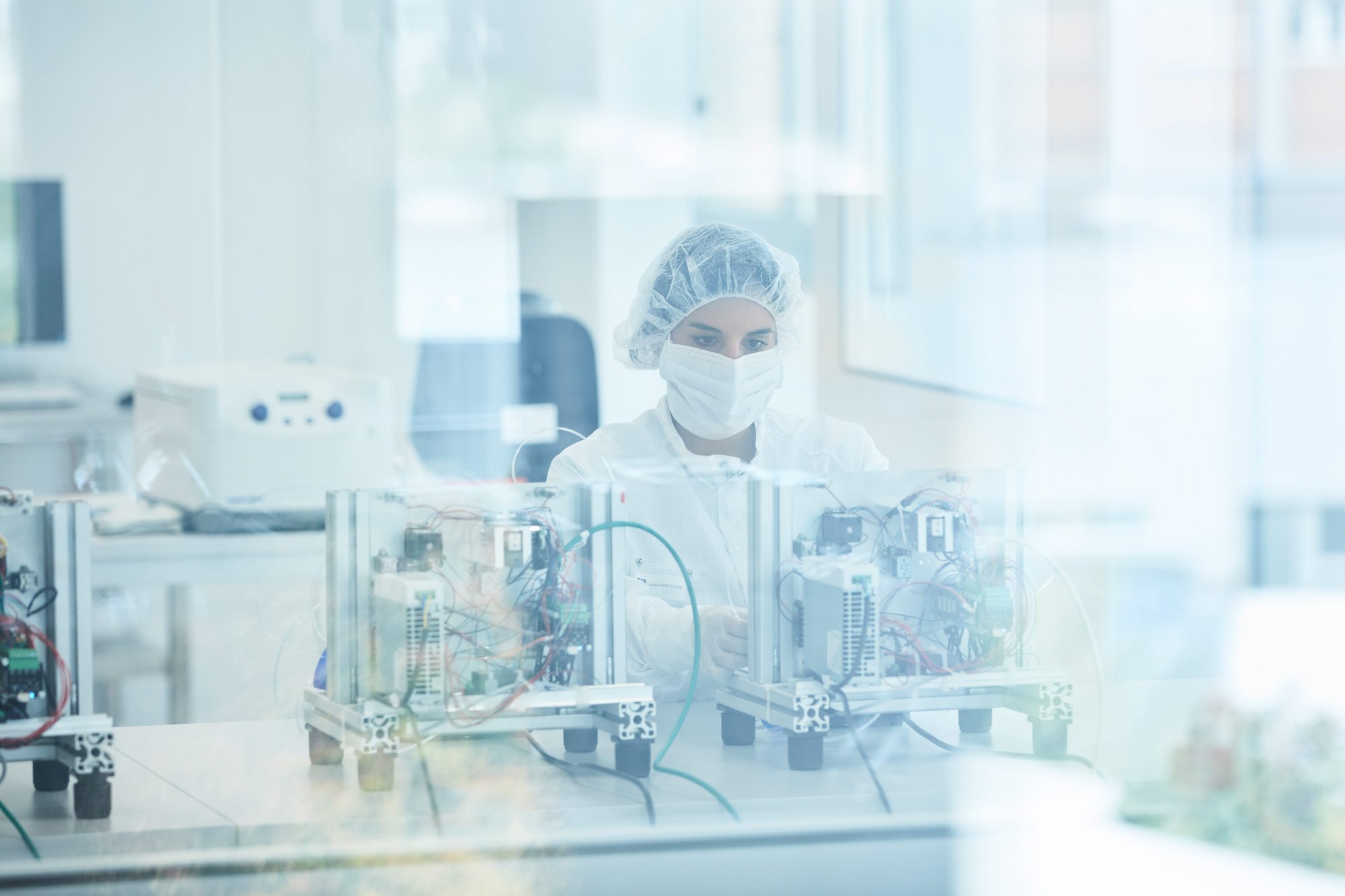 Securecell Investor Relations
Securecell is a Swiss high tech life science company pursuing a fundraising round to grow the customer base and expedite the development of innovative technologies.
With a reliable brand and strong traction, the company's Biotech business is ready to be scaled, and the Medtech business is well positioned to develop its product portfolio. Securecell is looking for established financial investors who can support this vision.
Securecell is Unique
Revolutionizing Bioprocessing
by providing unique solutions for automation, digitalization, data management and analytics. FTE savings with manual, repetitive work of highly skilled laboratory staff reduced through E2E automation
Transforming The Medtech Industry
by developing innovative technologies for real-time monitoring and control of critical blood parameters such as blood glucose
Swiss High-Tech With A Well Established Team
We are a Swiss high-tech life science company seeking to raise funds to grow the customer base and expedite the development of new technologies.
CHF 30m series B investment round from approved capital to expedite the development of the product portfolio
We are based in the Zurich area, with local access to top talent and direct connection to the global biopharma ecosystem
We transform bioprocessing to enable fast and efficient biologics development
We have an established brand and strong traction, serving 30 of the leading global corporations with a robust pipeline for further growth
At Securecell, 70+ innovators supported by a combined experience of over 600 years are driven to expand the boundaries of what is thought possible
Addressing Top Bioprocessing Pain Points With Proven And Disruptive Technologies
Our Biotech unit focuses on the high-growth market of benchtop scale bioprocessing systems. Two products have proven successful on the market, both highly acclaimed by customers and accounting for CHF 10.4m of cumulative revenue:
Lucullus®, a Process Information Management System (PIMS), digitalizes and integrates disconnected processes and ensures data integrity
Numera®, an automated sampling system, enables automated Process Analytical Technology (PAT) for bioprocesses
Additional novel products are being launched to establish a one-stop shop for bioprocessing, culminating in an end-to-end (E2E) bioprocessing platform: IntegraOne, which saves manual, repetitive work of highly skilled laboratory staff in the amount of 15-18 FTEs p.a. while also minimizing costly errors
Strategic partnerships signed with global leaders for "IntegraOne".
Pioneering Solutions In The Field Of Biomarker Monitoring
Our Medtech unit is developing innovative technologies for the fully automated, high-frequency, real-time collection, processing and analysis of minute quantities of blood, enabling the monitoring and control of critical blood parameters such as blood glucose
Our Medtech's flagship brand is Seraccess®, which capitalizes on the fine technology developed for Securecell Biotech's products Sephara (i.e. silicon filtration membrane) and MetaMaster (i.e. photometric light beam measurements)
With a FDA 510(k) pre-submission underway, Seraccess® AGM/AXM (Automated Glucose and other metabolites Monitoring) is expected to enter the US market in 2025 and will target intensive care units to enable life-saving decisions in hospital settings
Subsequent miniaturization and automation efforts will build upon the initial AGM/AXM product to create an artificial pancreas device system, enabling algorithmically regulated insulin administration in type 1 diabetes patients with severe glycemic variability (Seraccess® One) and the broader population of type I diabetes patients (Seraccess® Nextra)
If you would be interested to receive more investor information or schedule a meeting with investor relations please fill out the form below and we will contact you directly, or email us directly at investors@securecell.ch